Welcome

to

TurningPoint

Church
Welcome to our new online format. Feel free to explore and interact with the available features as you listen to powerful messages from our pastors. Just click the tabs below to take notes, give online, request a prayer and more. If you are having issues streaming from this page, refresh the page or watch live on Facebook.
Hello, and welcome to TurningPoint. We're so glad you've chosen to CONNECT with us today. We have a couple of interactive features we'd like you to explore.
Take Notes
Be sure to scroll down to read through the sermon notes as you follow along with Pastor Jeff, and don't forget to take your own notes! Enter your email if you wish to keep your notes.
Prayer Requests
Are you or anyone else you know in need of prayer? If so, we'd love to pray for you. Just submit your prayer request, and our Intercessory Prayer Team will pray for you. Each submission will be moderated before it is posted, so there may be a short delay before the request is public.
When submitting an online prayer request, please know that this is not intended for urgent requests. If you have an urgent PRAYER request, please contact the church office at 817.293.3111, Monday through Friday, 9am-5pm, to speak directly to someone, or leave your request and it will be retrieved within 24 hours.
Salvations
If you're watching, and you've had an encounter with God, we would like to know and help you on your journey to Salvation. Fill out the form and let us know you've made a decision. We'll connect you with one of our pastors to help you walk through your new journey.
CONNECT
If you are interested in TurningPoint, fill out the CONNECT form, and become a part of the our TPCFamily.
Wise Stewardship, Big Impact
Every dollar given to TurningPoint Church is a sacrifice that requires the highest level of accountability and stewardship.
Tithe &  Offering
"Entering the house where the baby and Mary, his mother, were, they threw themselves down before him, worshiping. Then they opened their presents and gave him gold, frankincense, and myrrh."
(Matthew 2:11 TLB)
Principle
We often miss the fact that these expensive gifts given by the wise men to Jesus were likely what funded Joseph and Mary's flight to Egypt to protect their Son. In the same way, our gifts to God's work help to fund His purposes in the earth!
We have three ways to give:
Mail
You can mail a check to
TurningPoint Church
10700 Old Burleson Road
Fort Worth, TX 76140
Text
Text "GIVE" to 817.617.4378
Online
It's simple and secure. Whether you would like to give a single gift, or schedule ongoing donations, you can do it all online, using your checking account, debit, or credit card.
Give Now
Our Intercessory Prayer team is eager to pray for you. While you are here, say a prayer for someone else and let them know by clicking the "I Prayed" button.
Stay up to date with your TPCFamily.
Visit our COVID-19 Blog for daily updates, Monday-Friday from our pastors and staff.
---
---
Ladies, registration is open for the upcoming Heels Conference! The exciting theme this year is Awaken 2020: Time to Step Into Your God-Given Purpose. Come experience the powerful ministry of Brenda Crouch and Sheila Walsh, which will impact your life with the aim of finding your purpose.
When registering for the conference you can also purchase a ticket for a Q&A lunch with Sheila Walsh. There are two options for the lunch, one being an alternative vegetarian meal. Ladies, seating for the lunch is limited, so don't wait.
For more information, visit www.heelsconference.com.
---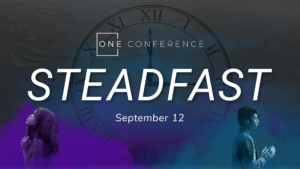 We welcome all students, ages 12-18, to attend our second annual ONE Conference, September 12, 9am-6pm. We are so excited about our 2020 theme—STEADFAST—and for all the workshops, games, worship, and live performances that are in store this year. The fun will continue at the After Party, which is open to the public after the conference from 5:30-9pm. Both events are completely FREE.
For more information, visit www.onestudentconference.com today!
---
Hey TPCFamily, if you are looking for a place to serve, the Creative Team has just the spot for you, on either the media or worship team. If you sing or play an instrument, come and audition for TPCWorship.
To join the media team, email [email protected]. Don't let the fancy cameras and sound booth intimidate you, we'll train you to use the equipment, so all skill levels are welcome! If you have questions about either team, feel free to email or stop by the table in the North Lobby.
---
In this season the enemy has been wreaking havoc with God's children through, fear, confusion, strife, division, disorder, chaos, lawlessness, frustration, and exhaustion. God is calling forth Nehemiahs to stand up against the attacks of the enemy in our homes, churches, communities, and nation. We need to position ourselves in prayer, as the sword and hammer of God's Word, just as Nehemiah did when rebuilding the wall of Jerusalem.
TPC is holding a 52-day prayer initiative to be cup bearers for the Lord starting Saturday, July 18, and ending Labor Day, September 7. A conference call will be held for prayer from 6:30am-7:30am each day of the 52 days. You can participate in this conference call whenever you choose, joining other brothers and sisters in prayer. You will also receive daily emails with a targeted prayer and scriptures for that day.
To be a part of this prayer initiative, email [email protected]. You will be emailed the phone number for the daily conference calls and added to the daily email list.
"and My people who are called by My name humble themselves and pray and seek My face and turn from their wicked ways, then I will hear from heaven, will forgive their sin and will heal their land."