SUM is an accredited Bible College and Theological Seminary designed to raise up ministry leaders by offering an affordable Bible education. Graduate with NO DEBT through our new donation-based tuition.
Degree Programs
For more information about SUM and the degree programs offered, visit www.sum.edu or contact Tina.
---
Associate Degree Programs
Associate of Arts in Theology and Ministry (AATM)
The AATM program provides the Biblical basics, theological foundation, and initial ministry education to help those called to ministry.
Completion Time: 1.5 Years
Credits: 64 Credits
---
Undergraduate Degree Programs
Bachelor of Arts in Theology and Ministry (BATM)
The BATM program equips students for effective ministry through academic instruction, hands-on ministry, and personal mentorship that helps students attain a fundamental grounding in Theology and Ministry.
Completion Time: 3 Years
Credits: 124 Credits
Bachelor of Arts in Worship and Music (BAWM)
The BAWM program prepares future ministry leaders in musical proficiency together with a biblical-theological education that cultivates servant leaders with practical ministry experience and personal mentorship.
Completion Time: 3 Years
Credits: 124 Credits
---
Graduate Degree Programs
Master of Arts in Christian Leadership (MACL)
The MACL program provides students with a solid understanding of biblical leadership principles and strategies, while preparing them to serve in leadership positions.
Completion Time: 3 Years
Credits: 38 Credits
Master of Arts in Biblical Studies (MABS)
The MABS program equips students in biblical-theological understanding as it informs ministry work, including teaching, preaching, Bible education, and research.
Completion Time: 3 Years
Credits: 48 Credits
Master of Divinity (MDiv)
The MDiv program equips Christian leaders for their fivefold callings as apostles, prophets, evangelists, pastors or teachers. This degree is for those who seek a deep and broad understanding of Christian faith and church leadership to guide the church in the 21st century.
Completion Time: 3 Years
Credits: 76 Credits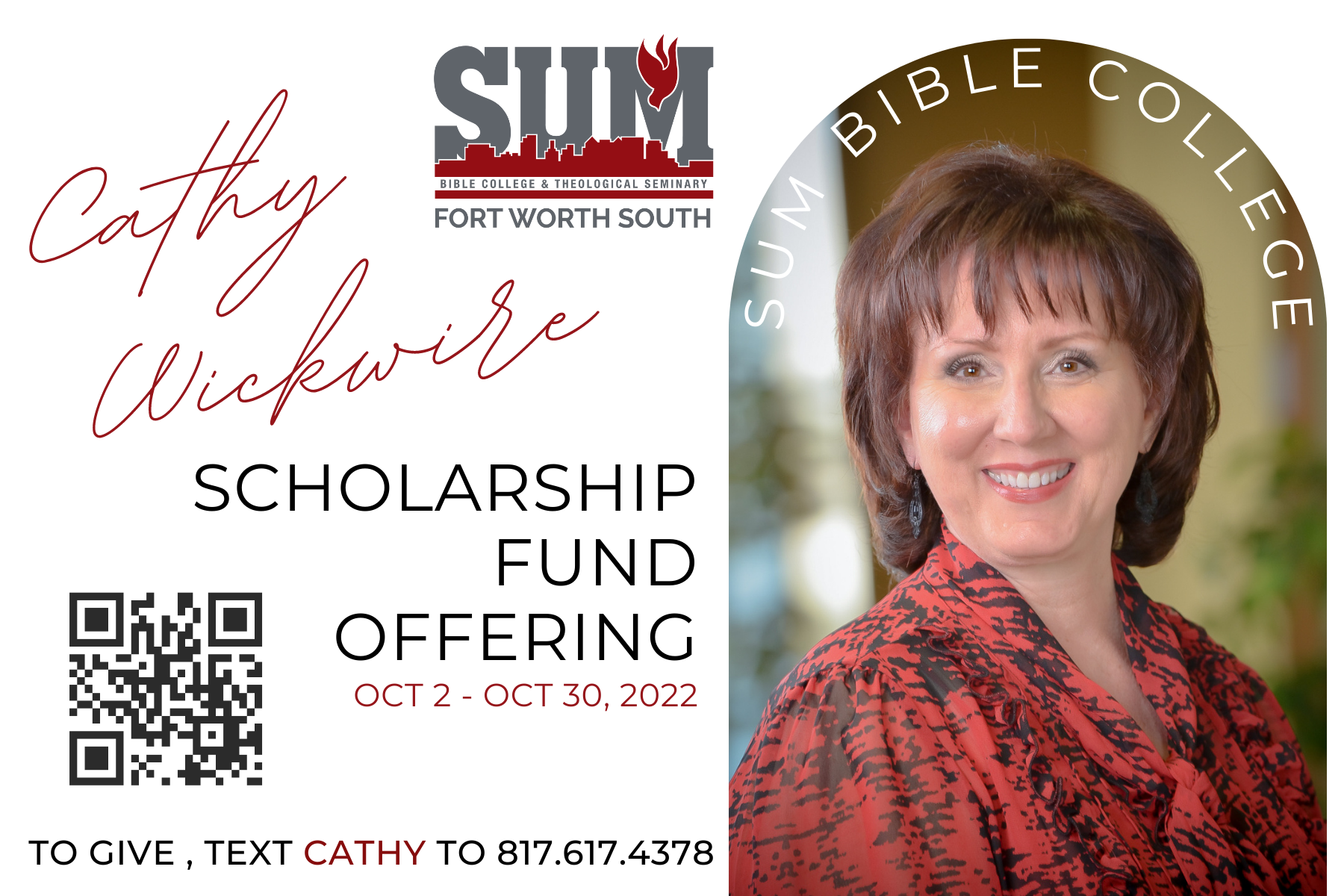 Cathy Wickwire Scholarship
Ms. Cathy and Pastor Jeff were always passionate about biblical education and having a school was one of their dreams. That dream came true… but Ms. Cathy passed away before she could see SUM begin. To honor her memory, the Cathy Wickwire Scholarship was established for students who attend SUM Fort Worth South.
This scholarship relieves the financial burden for students in our annual outreach, the Evangelism Conference & Outreach (ECO). Your contributions enable us to minister to our local community by bringing them the word of God through door-to-door outreach.
To contribute, scan the QR code or text CATHY to 817.617.4378. Thank you for honoring Ms. Cathy and supporting SUM Fort Worth South.